Family Horses
LASSBAN DIAMOND LIFT (Sparkles)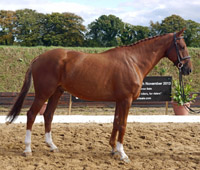 Sparkles is a 15-year-old, 17hh, chestnut gelding by Easy Lift who we bought from the Monart Sale in Ireland in 2013. He is 7/8th TB and has a great canter and jump, with plenty of scope. He is owned by Jenny and Liz Murdoch.
Originally competed by Bill, who rode Sparkles to a top 15 finish at Badminton in 2019, Josh has taken over the reins for 2023 and will spend the first part of the season building their partnership.
DIARANA DH Z (Didi)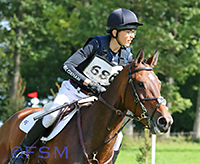 Didi is an 11-year-old 16hh dark brown mare owned by Ros Morgan that Josh started riding during 2020. They built a partnership going from BE100 to their first OIu21 at Oasby (where they jumped double clear) at the end of the season. They have established a great bond, both loving their cross country and tolerating the dressage!
Josh consolidated their partnership in 2021, placing 2nd in a OIu21 and completing Bicton's CCI3*S. There was more of the same in 2022, the pair finishing 10th at Millstreet's CCI3*L. They will aim at Juniors and an autumn 3*L after A levels.
IRISH ANGEL NJ (Cassie)
Cassie is a 13-year-old, 16.2hh bay mare by Cassino, who we found at the Monart Sale in Ireland in 2013. She has a great eye and is a good model of a horse, with a kind and gentle temperament. She started her eventing career in 2015 but unfortunately had a freak accident on the walker in 2016. She now has a new competitive career, vaulting with Urssie.
In her first competitive season Cassie became British Champion with children in three different categories, including with Urssie. In 2022 Urssie and Cassie competed at the Junior and Young Vaulter European Championships. She is now stepping back as one of the Moulton Vaulting Group's 'anchor' horses. Urssie runs the group and will continue to do so as part of her full time vaulting when she leaves school.
IRISH GOLD NH (Richie)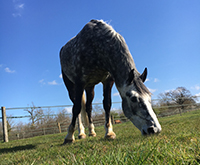 Richie is a 9-year-old 17.3hh steel grey Irish Draft gelding owned by Urssie and Jenny that Bill found in Ireland just before lockdown in 2020 – we bought him from a video of him being in the pub (literally!) after a day's hunting so knew he would likely have the temperament for vaulting. Lockdown allowed us to get to know him and begin his training as a vaulting horse – he's taken to it very well.
For 2023 Urssie is aiming him for the Junior & Young Vaulter World Championships in Sweden.
SHANNONDALE JEDI (Jedi)
Jedi is a 10-year-old Irish Sport Horse gelding, owned by Jenny. We purchased him at the Monart Sale in 2016 and produced him slowly. He has been competed by Bill, Jenny and Josh.
A true 'family horse' he is now turning his hoof to vaulting. For 2023 Urssie is aiming him for the Junior & Young Vaulter World Championships in Sweden.
THIS ONE'S ON YOU (Bert)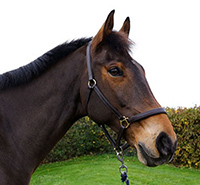 Bert is a 14-year-old, 16.3hh bay gelding owned by Liz Murdoch. He is by Ars Vivendi out of a Clover Hill mare. Produced by Polly Jackson Griffin, he was competed by Bill for a couple of seasons before Josh took over the reins in 2020.
By the end of 2021 the pair was contesting OIu21 classes (3rd at Kelsall Hill), also completing a CCI3*S. There was more of the same for 2022 with some good top 10 results. In 2023 Bert will be aimed at Juniors and Montelibretti.