Family Horses
ATHLEET V (Tommy)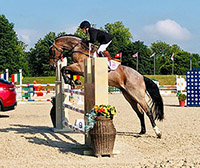 Tommy belongs to the Prentice family and has been based with us for 10 years. He came to us as a four year old from Tim and Antonia Brown having placed in the top few at the BYEH final at Burghley. He is affectionately known as the pink pony due to his striking colouring and is a very loveable horse to have about. He is 17hh and now 16 years old. Bill enjoyed lots of success with him at CCI4S* level but he's always been fragile and the Prentices have kindly allowed Jenny to spend time finding out systems that work for him. He's tried his hand at vaulting and as a fun horse with Jenny during several years of rehab and more recently has joined 'team Josh'. Josh and Tommy seem to fit well together and to be having lots of fun – long may it last.
DIARANA DH Z (Didi)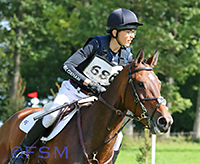 Didi is a 8 year old 16hh dark brown mare owned by Ros Morgan that Josh started riding during 2020. They built a partnership going from BE100 to their first OIu21 at Oasby (where they jumped double clear) at the end of the season. They have established a great bond, both loving their cross country and tolerating the dressage! Josh aims to do OIu21 classes with her in 2021 and hopefully a CCI2*S and L with her.
IRISH ANGEL NJ (Cassie)
Cassie is a 11 year old, 16.2hh bay mare by Cassino, who we found at the Monart Sale in Ireland in 2013. She has a great eye and is a good model of a horse, with a kind and gentle temperament. She started her eventing career in 2015 but unfortunately had a freak accident on the walker in 2016. She now has a new competitive career, vaulting with Urssie. In her first competitive season Cassie became British Champion with children in three different categories, including with Urssie who has been long listed for the Junior Vaulting World Championships in 2021.
IRISH GOLD NH (Richie)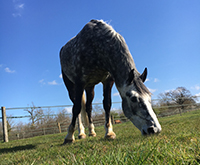 Richie is a 7 year old 17.3hh steel grey Irish Draft gelding owned by Urssie and Jenny that Bill found in Ireland through his contacts just before lockdown in 2020 – we bought him from a video of him being in the pub (literally!) after a day's hunting so knew he would likely have the temperament for vaulting. Lockdown has allowed us to get to know him and begin his training as a vaulting horse and he's taken to it very well – so we look forward to getting him out competing in 2021.
SHANNONDALE JEDI (Jedi)
Jedi is a 8 year old Irish Sport Horse gelding, owned by Jenny. We purchased him at the Monart Sale in 2016 and produced him slowly. He has been competed by Bill, Jenny now Josh.
THIS ONE'S ON YOU (Bert)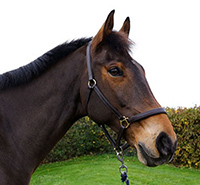 Bert is a 12 year old, 16.3hh bay gelding owned by Liz Murdoch. He is by Ars Vivendi out of a Clover Hill mare. Produced by Polly Jackson Griffin, he was competed by Bill for a couple of seasons before Josh took over the reins.