Team Levett
I would like to introduce you to 'Team Levett' as although I ride the horses, without my team I'd not be able to keep the show on the road. I hope you get a flavour from my blog of the variety of activities and level of detail that goes on behind the scenes to run a successful event yard. Whether it be the work that goes in to tailoring the competition plans for each and every one of the horses, or deciding on the personalised fitness and training programmes for each horse, or the feeding and shoeing regime, no stone is left unturned and the detail is constantly revisited in order to try and ensure both the horses and I are 'set up for success'.
My team is critical to my success, everyone plays their part and all involved are equally important.
Lucy and Rosie are with us on an apprenticeship scheme, while Jen joins us part time.
Jo also works part time and, when not with us, can be found doing dressage with her lovely ex-racehorse Mouse, or at the races.
Sally works with us part time alongside an active career in education.
Lou D
creates order out of chaos with the bookwork.

Nick Deacon (our camera-shy farrier in the photo), Maggie Turner and Annabelle Gait (equine physios for Little Charingworth), Anna Johnson (equine physio at competitions), Grant Chanter
(equine dentist), and
Tom Campbell (vet).
They are all critical members of the team who we've worked with for a long time, more than ten years in most cases, and who help to keep the horses fit and well.
Alan B is our very handy Handyman
Various trainers give me help on the flat and over fences as I believe I'm constantly learning and need help to try and continue to improve and refine my riding skills and understanding/partnership with each of the horses I ride and produce.

Byron (pictured with his departed brother Bay) guards Little Charingworth Stud, clears up the horse hoof and ensures Jenny and the kids are never alone when I'm away on the road.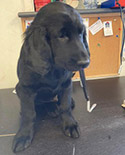 Marlu is the latest addition to the team…


Dot – Bill's truck dog
Wombat – Jenny's truck dog
Waltzer & Fairground (the cats!) ensure the mice/rats are kept at bay at Little Charingworth Stud.

Thanks to Fiona Scott-Maxwell who takes the majority of the fantastic photos on our website.